Fresh Power and a Bright Winter Sun Create a Picture Perfect Snow Scene
This was a magical day when 36 cm of new snow over night combined with brilliant blue skies and puffy white clouds to create some memorable snow scenes. All of these shots are taken at the top of the Boomerang chair looking over 400 acres of skiing and snowboarding area.
Picture Gallery - At the Top of The Boomerang Chair - Mt. Washington
Click on the small pictures to enlarge them, hover to change the description.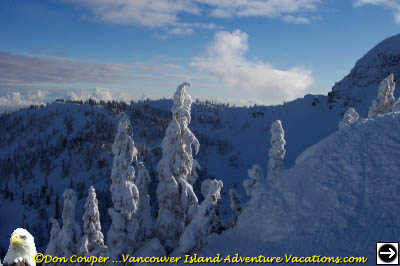 At the Top of The Boomerang Chair - Mt. Washington
Above the main picture (From Left to Right)
1. All the shots in this set are taken just to the right of the top of the Boomerang Chair. For this one I turned 90 degrees to the right. The back side of Mt. Washington is shown in the top right of the picture.
2. Here I am looking about 45 degrees to the right with the Strait of Georgia in the distant background.
3. This shot is just a bit off straight down the middle of the Boomerang chair. Again we can see the Straight of Georgia just below the billowing clouds in the distance.
4. This is the top of the Boomerang chair. We can see the top of the McKay Glades in the distance.
5. Looking directly down the Boomerang Chair. This is one of the most difficult ways to drop into this skiing paradise. The most distant chair you can see is less than half way down the mountain. New powder and a brilliant winter sun create a perfect snow scene.

Where To Go From Here
The Boomerang is a good name for the chair as it has two sides. Riders on both sides of the chair unload at the top. The front side has only 5 towers and forms the much shorter side of the boomerang.
There is a road down the short side of the chair that is suitable for green and blue level skiers so just about everyone can come up and enjoy the snow scene you can view from this spot.
Going down the long side of the Boomerang Chair is only suitable for advanced intermediate and expert skiers. All runs have some double blank diamond sections.
If your skiing ability allows you to plant a pole and go a round it without fear the Boomerang quad is a great chair to ski and snowboard.
I recommend that you leave the chute shown in photo 5 to others. Take either the first or second left exit from the road down Mangroves.Enjoy the snow scene!




Another Snow Scene Gallery | Return To the Boomerang Chair Trail Map